The Cuyahoga River first caught on fire in the 1890s but burned thirteen other times, some fires fatal and other causing over billions of dollars according to Ohio History Central.
The pollution of the river led to these fires and caused environmental damage that would last for decades. The instability of the ecosystem drove away species that were native to the area such as otters, beavers and coyotes.
When the 1948 Federal Water Pollution Control Act was created, it was the first stepping stone to working against the pollution and disregard for the health of water to come into effect. In 1972, the amendments turned the act into what we now know as the Clean Water Act and brought noticeable changes to water systems across the country.
The Clean Water Act laid out plans in order to reduce the amount of pollution occurring in rivers and lakes across the country, including the river.
According to the United States Environmental Protection Agency, the amendments, listed below, helped advance the Clean Water Act further to grow the fight against the pollution of water.
Established the basic structure for regulating pollutant discharges into the waters of the United States.
Gave EPA the authority to implement pollution control programs such as setting wastewater standards for industries.
Maintained existing requirements to set water quality standards for all contaminants in surface waters.
Made it unlawful for any person to discharge any pollutant from a point source into navigable waters unless a permit was obtained under its provisions.
Funded the construction of sewage treatment plants under the construction grants program.
Recognized the need for planning to address the critical problems posed by nonpoint source pollution.
Meg Plona, a biologist at Cuyahoga Valley National Park, manages a multitude of different job aspects such as water quality monitoring, river use planning and minerals management.
She's worked at the park since 1979 and remembers the struggles that native species had during the years of high pollution but said that the park has not reintroduced any species.
Species are slowly returning to the park as its health rises even without the help of humans.
"While the park has not reintroduced any species, the mammals that were once extirpated or have returned "naturally" after a long absence include beaver, coyote, river otter and bald eagles," Plona said. "There are also many bird species and fish species that are present today that were not here in the 1980s."
A full list of animals currently residing within the Cuyahoga Valley National Park can be found here.
Plona continues has seen improvement through the years as more environmental programs are put to work within the national park such as "The River Renewal Underway," a campaign to show the work going into renewing and reinvigorating the river.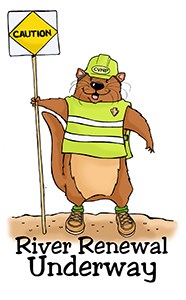 "My 'ah-ha' moment (when she knew the ecosystem was turning around) was in 2007 when a pair of American Bald Eagles nested for the first time in the park and successfully fledged an eaglet," Plona said. "To date, this nesting pair has successfully fledged 16 eaglets."